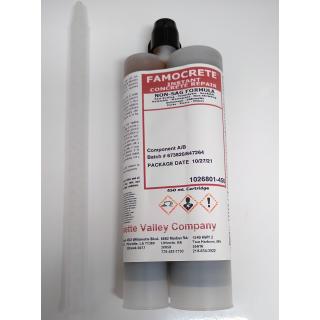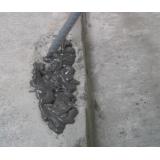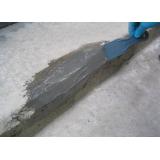 FamoCrete Instant Concrete Repair - When damaged concrete is overhead it is necessary to have a product that won't drip and run before it cures. FamoCrete's higher-viscosity formula allows it be trowelable and sag resistant.
WHERE TO USE FamoCrete
Walls – fill voids or patch defects
Pillars – repairs damaged areas
Sidewalks – fixes transitions or spalls
Driveways - Concrete crack repair
Curbs – repairs broken or damaged areas
Joints – supports and seals
FamoCrete FEATURES AND BENEFITS
FamoCrete repairs both horizontal and vertical concrete areas.
FamoCrete can be troweled level and abraded to match the surrounding area.
FamoCrete is:
Sag resistant
Easy to apply
Excellent adhesion to concrete
Fast setting
Trowelable
Sandable
Paintable
Waterproof
Non-Shrinking
Description
For Vertical and Horizontal Concrete Repair
FamoCrete Instant Concrete Repair is a rigid and sag resistant polyurethane that has been specially designed for the repair of broken or spalled concrete. It is extremely easy to apply and supplied in a ready-to-use universal cartridge. FamoCrete's non-sag formula makes it ideal for repairing concrete that is overhead or vertical, like a pillar or wall.
Case CONTENTS:

(1) Ready-to-use Universal 450mL Cartridge
(1) Dispensing Tips
Instructions
MSDS
PACKAGING: Box of (1) 450 mL Cartridge (1-Pack).
COLORS: Dark Gray
UNIT VOLUME: 450-mL per cartridge.
YIELD: Up to 35 Linear Feet per unit.

Instructions
Before handling, you should become familiar with the Material Safety Data Sheet (MSDS) regarding the risks and safe use of this product. The MSDS is included within the product packaging. For a copy of the MSDS please Contact Us with your request.
Technical Data
Crack Repair, Non Sag,
SHELF LIFE
1 year when properly stored.
STORAGE
Store and ship this product in a clean, dry, low-humidity, shaded or covered environment at 60-90F.
AVAILABLE PACKAGING:
Dual Cartridge (450 mL)
Warranty
DISCLAIMER OF WARRANTY
TEST RESULTS ARE TO BE CONSIDERED AS REPRESENTATIVE OF CURRENT PRODUCTION AND SHOULD NOT BE TREATED AS SPECIFICATIONS. WHILE ALL THE INFORMATION PRESENTED IN THIS DOCUMENT IS BELIEVED TO BE RELIABLE AND TO REPRESENT THE BEST AVAILABLE DATA ON THESE PRODUCTS, NO GUARANTEE, WARRANTY, OR REPRESENTATION IS MADE, INTENDED, OR IMPLIED AS TO THE CORRECTNESS OR SUFFICIENCY OF ANY INFORMATION, OR AS TO THE SUITABILITY OF ANY CHEMICAL COMPOUNDS FOR ANY PARTICULAR USE, OR THAT ANY CHEMICAL COMPOUNDS OR USE THEREOF ARE NOT SUBJECT TO A CLAIM BY A THIRD PARTY FOR INFRINGEMENT OF ANY PATENT OR OTHER INTELLECTUAL PROPERTY RIGHT. EACH USER SHOULD CONDUCT A SUFFICIENT INVESTIGATION TO ESTABLISH THE SUITABILITY OF ANY PRODUCT FOR ITS INTENDED USE. PROPER APPLICATION IS THE RESPONSILBITY OF THE USER. AS WITH ANY PRODUCT THE USE OF THE THIS PRODUCT IN A GIVEN APPLICATION MUST BE TESTED (INCLUDING BUT NOT LIMITED TO FIELD TESTING) IN ADVANCE BY THE USER TO DETERMINE SUITIBILITY. TESTING IS THE REQUIREMENT OF BOTH ENGINEERS AND CONTRACTORS ALIKE. WVCO DOES NOT WARRANT THE APPLICATION UNDER ANY OR ALL CIRCUMSTANCES.
Shipping
Pallet Qty.: 64 cases, Unit Volume: Case (12)
To quickly preview an accurate shipping quote for your order, including quantity discounts, add all of your selected item(s) to your Shopping Cart, enter your Zip Code into the form and click the Get Quotes button.
Reccommended Accessories for: FAMOCRETE Instant Concrete Repair (450mL) 1-Pack
[1026801-4501]

Manual 2:1 Dual Cartridge Gun 300mL x 150mL
Ask a question about: FAMOCRETE Instant Concrete Repair (450mL) 1-Pack
[1026801-4501]
Customers who bought this product also purchased