FASTPATCH Product Overview
FASTPATCH™ will outlast and outperform traditional repair materials with permanent repairs and quick return-to-service. With the family of FASTPATCH Products you have the ability to repair damaged pavement no matter what the situation or the environment.
FastPatch DPR (Distressed Pavement Repair) How-To Video
FASTPATCH™ Products for Pavement Repair
FASTPATCH DPR (Distressed Pavement Repair) Our most popular line of pavement repair solutions for both Concrete Repair and Asphalt Repair that are fast-curing and ultra-tough! Each Pre-Measured Kit is designed with ready-to-use packaging, containing everything you need to complete your repair.. FASTPATCH DPR is made from 80% recycled & renewable materials - Environmentally friendly and sustainable sources. FastPatch DPR has excellent adhesion, absorbs impact and is freeze-thaw resistant. Easily create smooth transitions and ultra-tough level surfaces. Easy to install and long-lasting!
FASTPATCH 5000 rapid roadway repair is designed to pour or dispense into cracks and voids in concrete roads. High-flexural formula allows it to perform exceptionally well under heavy loads. Repaired areas can be opened to traffic in as little as one hour. Easily fill cracks or voids with superior adhesion to concrete.
FASTPATCH ACR Asphalt Alligator Crack Repair is a cold applied, easy to mix asphalt restoration and repair material. FastPatch ACR is used to repair alligatoring cracks while providing a protective layer over the cracks to help prevent further cracking and to keep water from entering the cracks. FastPatch ACR is a 100% solids polymer composite. No water or solvents. FastPatch ACR is supplied in complete, pre-measured, ready-to-use kits. FastPatch ACR Asphalt Alligator Crack Repair provides long lasting, durable repairs that allow for rapid return to service, within an hour of installation.
FASTPATCH CF (Crack Filler) is a rapid setting two-part polyurethane designed for concrete repair. It is designed for damaged concrete surfaces where cracks, spalls and edge breaks must be filled in to extend the life of the concrete. Its combination of fast set, high strength and low viscosity make it ideal for areas which must be brought to level. It may be left uncoated after cure, or standard concrete coatings may be applied over it.
FASTPATCH LV's low-viscosity formula allows it to perform exceptionally well in below-freezing conditions. Easily fill cracks in concrete with tremendous bond strenth.
FASTPATCH NS's non-sag formula is the ideal solution for repairing cracks in concrete and damage that is vertical or overhead. Also excellent for bonding road reflectors on both horizontal and vertical surfaces.
FASTPATCH MD is meter dispensed with the WV-200 or WV-410 MD Polymer Applicator Systems and is perfect for repairing large areas of damaged concrete. Machine dispensed flexible polymer engineered for large and medium-sized spall and crack repair concrete applications. Available in both self-leveling and Slope Grade versions.
View the FASTPATCH Product Selection Guide to determine which product is appropriate to your pavement repair needs.
FASTPATCH EJC Elastomeric Joint Sealant product line for expansion joint repair is a unique hybrid polyurea that passes the testing needed for highways, bridges and airports that no other product of its kind can achieve. EJC-25, EJC-NS, EJC-50 and EJC-100 have the durability to hold up to joint expansion and contraction, and daily abuse of road traffic. Even under extreme weather conditions they retain the high performance characteristics needed for years to come.
View the EJC SEALANTS Product Selection Guide to determine which product is appropriate to your expansion joint repair or restoration requirements.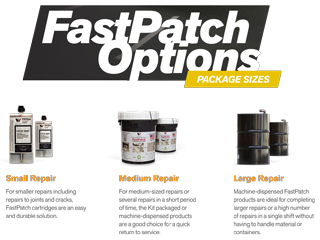 Where to use FASTPATCH™ Products
Highways, Roadways, Streets
Bridges & Tunnels
Airports & Runways
Parking Facilities
Railroad Facilites, Trackage
Water Treatment Facilities
Warehouses, Warehouse Floors
Truck Depots, loading docks
Petrochemical Facilities
Driveways, Patios, Decks
Sidewalks, Golf Cart Paths
Much more...
What you can expect from FASTPATCH™ Products...
Easy to Use • Fast Curing • Very Fast Return to Service • Flexible • Excellent Adhesion • Superior Strength • Low Viscosity(LV) • Low and High Temperature Repair • Low moisture sensitivity