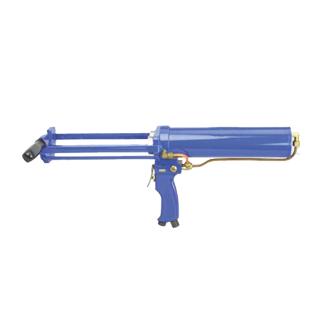 Pneumatic 1:1 Polymer Dispenser 300mL x 300mL
For use with FASTPATCH & PolyPrime 1:1 Ratio 600mL Dual Cartridge products.
HEAVY DUTY
MODEL: WMT AG-250
Aluminum air cylinder is 2.5" in diameter. Has "air in" and "air out." This provides power forward and power reverse for ease of operation. Supplied with built in air regulator at base of handle. Comes with interchangeable side handle for added stability.
Description
For use with FASTPATCH & POLYPRIME 1:1 Ratio 600mL Dual Cartridge products.
OVERALL LENGTH: 22"
AIR REQUIRED: 90-145 psi
RATIO: 2 to 1
THRUSTING FORCE: 600 lbs. (HEAVY DUTY)
WEIGHT: 5.5 lbs.
SHIPPING WEIGHT: 10 lbs.
Instructions
There is no Material Safety Data Sheet (MSDS) regarding the risks and safe use of this product.
Technical Data
Type: Air Operated
Warranty
TOOLS WARRANTY
MANUFACTURERS LIMITED WARRANTY. See Manufacturers literature for details.
Shipping
To quickly preview an accurate shipping quote for your order, including quantity discounts, add all of your selected item(s) to your Shopping Cart, enter your Zip Code into the form and click the Get Quotes button.
Ask a question about: Pneumatic 1:1 Dispenser 300mL x 300mL AG-250
[WMT-AG250]