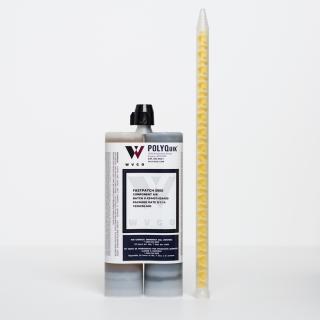 FASTPATCH 5000 is a flexible, two-component urethane designed to be a fast curing repair product for concrete. It is a 100% solids product supplied in ready-to-use cartridges. FASTPATCH 5000 has excellent adhesion to concrete. Repaired areas can be opened to traffic in as little as an hour. FASTPATCH 5000 can be meter applied, Contact Us for more details.
TYPICAL PROPERTIES
Tensile Strength = 2000 psi (14 MPa)
Yield Stress = 4040 psi (28 MPa)
Compression Strength 5000 psi (34.5 MPa)
Ratio = 1:1
WHERE TO USE FASTPATCH 5000 Flexible Spall Repair
Roadways–fill voids or patch defects
Parking Lots–repair damaged areas
Warehouses–transitions or spalls
Sidewalks–broken or damaged areas
FEATURES AND BENEFITS
Easy to Use– anyone can apply it
Fast Curing–reopen to traffic quickly
Flexible–absorbs impact and stress
Excellent Adhesion–restores damaged areas
FASTPATCH 5000 is:
A flexible spall repair
Fast setting
Superior adhesion to concrete
FASTPATCH 5000 is also available for Metered Dispensing in 10-Gallon Kits (5-Gal Resin, 5-Gal ISO) and 100-Gallon Kits (50-Gal Resin, 50-Gal ISO).
Description
FASTPATCH 5000 rapid roadway repair is designed to pour or dispense voids in concrete roads. Flexible spall repair.
Case CONTENTS:

(12) Polymer Part A + Polymer Part B Dual Cartridges
(12) Static Mixing Tips
Instructions
MSDS
PACKAGING: Case of (12) 600mL Dual Cartridges (12-Pack).
COLORS: Gray
Other colors available upon request.
UNIT VOLUME: 600-mL (300x300) per dual-cartridge.
YIELD: 600-mL Cartridge = 0.16 gal (37in³).
YIELD extended with gravel = 0.3 gal (69.2in³).
SET TIME = 5 min.
RATIO: 1 to 1 (Resin to Iso).
Instructions
Before handling, you should become familiar with the Material Safety Data Sheet (MSDS) regarding the risks and safe use of this product. The MSDS is included within the product packaging. For a copy of the MSDS please Contact Us with your request.
View or download the Installation Guidelines: FastPatch Concrete Spall and Crack Repair Guidelines.pdf


GENERAL CARTRIDGE INSTRUCTIONS
- ALWAYS WEAR SAFETY GLASSES AND GLOVES WHILE HANDLING CARTRIDGES.
- FOR BEST RESULTS: STORE CARTRIDGES IN UPRIGHT POSITION. CONDITION CARTRIDGES TO ≥ 60°F (15°C) BEFORE USING.
REMOVE NUT AND CAP.
SECURE MIX-TUBE TO CARTRIDGE AND TIGHTEN NUT, BE SURE TO AVOID CROSS-THREADING. MIX TUBE END MAY BE CUT FOR GREATER EXTRUSION RATE (OPTIONAL).
LOAD CARTRIDGE INTO DISPENSER; KEEP CARTRIDGE UPRIGHT.
BEGIN DISPENSING AND FILL MIX-TUBE WITH MATERIAL (KEEP UPRIGHT). VISUALLY INSPECT MATERIAL IN MIX-TUBE TO ENSURE PROPER MIXING.
TILT DOWN AND DISPOSE OF INITIAL PORTION (5 PUMPS OR 3 SECONDS). CONTINUE DISPENSING INTO APPLICATION AREA. KEEP CARTRIDGE POINTED DOWN AND DISPENSE AT A CONSTANT RATE UNTIL FINISHED. AVOID REPEATED TRIGGERING ON AND OFF.
TO RE-USE PARTIALLY DISPENSED CARTRIDGE: HOLD CARTRIDGE UPRIGHT. REMOVE MIX-TUBE AND WIPE CARTRIDGE CLEAN. REPLACE CAP AND NUT. NEXT APPLICATION WILL REQUIRE NEW MIX-TUBE.
Video
FastPatch Cartridge Dispensing Techniques: Watch the video to learn how to correctly load and dispense FastPatch cartridge products for concrete repair and asphalt repair applications.
If you have any questions on how to properly load and use FastPatch cartridges, please Contact Us for assistance.
Technical Data
View or download the Technical Data Sheet: TDS_FastPatch_5000.pdf

Flexible Repair. Set Time = 10 min. 1:1 Vol.
COVERAGE ESTIMATOR
View the Coverage Estimator Chart.
SHELF LIFE
1 year when properly stored.
STORAGE
Store and ship this product in a clean, dry, low-humidity, shaded or covered environment at 60-90
Warranty
DISCLAIMER OF WARRANTY
TEST RESULTS ARE TO BE CONSIDERED AS REPRESENTATIVE OF CURRENT PRODUCTION AND SHOULD NOT BE TREATED AS SPECIFICATIONS. WHILE ALL THE INFORMATION PRESENTED IN THIS DOCUMENT IS BELIEVED TO BE RELIABLE AND TO REPRESENT THE BEST AVAILABLE DATA ON THESE PRODUCTS, NO GUARANTEE, WARRANTY, OR REPRESENTATION IS MADE, INTENDED, OR IMPLIED AS TO THE CORRECTNESS OR SUFFICIENCY OF ANY INFORMATION, OR AS TO THE SUITABILITY OF ANY CHEMICAL COMPOUNDS FOR ANY PARTICULAR USE, OR THAT ANY CHEMICAL COMPOUNDS OR USE THEREOF ARE NOT SUBJECT TO A CLAIM BY A THIRD PARTY FOR INFRINGEMENT OF ANY PATENT OR OTHER INTELLECTUAL PROPERTY RIGHT. EACH USER SHOULD CONDUCT A SUFFICIENT INVESTIGATION TO ESTABLISH THE SUITABILITY OF ANY PRODUCT FOR ITS INTENDED USE. PROPER APPLICATION IS THE RESPONSILBITY OF THE USER. AS WITH ANY PRODUCT THE USE OF THE THIS PRODUCT IN A GIVEN APPLICATION MUST BE TESTED (INCLUDING BUT NOT LIMITED TO FIELD TESTING) IN ADVANCE BY THE USER TO DETERMINE SUITIBILITY. TESTING IS THE REQUIREMENT OF BOTH ENGINEERS AND CONTRACTORS ALIKE. WVCO DOES NOT WARRANT THE APPLICATION UNDER ANY OR ALL CIRCUMSTANCES.
Shipping
This item includes
FREE Shipping
Pallet Qty.: 64 cases, Unit Volume: Case (12)
To quickly preview an accurate shipping quote for your order, including quantity discounts, add all of your selected item(s) to your Shopping Cart, enter your Zip Code into the form and click the Get Quotes button.
Reccommended Accessories for: FASTPATCH 5000 Gray 600mL 12-Pack
[1026250-600]

Manual 1:1 Dual Cartridge Gun 300mL x 300mL
Ask a question about: FASTPATCH 5000 Gray 600mL 12-Pack
[1026250-600]
Customers who bought this product also purchased