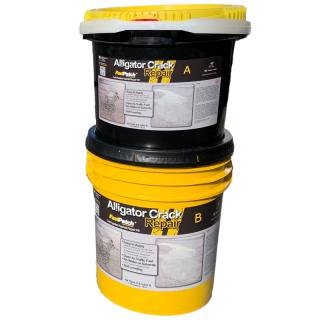 FASTPATCH™ Asphalt Alligator Crack Repair (FastPatch ACR) is a cold applied, easy to mix asphalt restoration and repair material. FastPatch ACR is used to repair alligatoring cracks while providing a protective layer over the cracks to help prevent further cracking and to keep water from entering the cracks. FastPatch ACR is a 100% solids polymer composite. No water or solvents. FastPatch ACR is supplied in complete, ready-to-use kits. FastPatch ACR can be applied in cool or warm conditions to form a permanent repair that is quickly ready for traffic.
WHERE TO USE
For spot repairs of "alligatored" asphalt [use only where open cracks are present].
Localized spot repairs of alligator cracking on roadways, parking lots, driveways and walkways.
Easily repair and restore cracked or alligatoring (fractured) asphalt. Stops future water intrusion or erosion.
FastPatch Asphalt Alligator Crack Repair (ACR) is not a asphalt seal coat or slurry seal, and should not be used in a manner inconsistent with label instructions or directions.
Exceeds ASTM D7234 specifications for adhesion to asphalt.
FEATURES AND BENEFITS
Easy-to-Apply - Mix with drill, pour, & finished in minutes.
Lasting Repair - Excellent adhesion & absorbs impact.
Does not freeze. Apply as low as 35°F (2°C).
Fast Curing - Tack free in 45 minutes at 75°F; 90 minutes at 40°F.
Open to Traffic Quickly - Reduce traffic interruptions.
100% reactive ingredient mix. No water or solvents. 0 VOC.
Odorless - 100% solids & suitable for indoor application.
Freeze-Thaw Resistant - Long term repair for colder climates.
No thickness limit. Easily pour in 2 inch (5 cm) depth per layer.
FASTPATCH ACR Alligatored Asphalt Crack Repair Kits are:
Pre-Measured
Self-Adhering
Low moisture sensitivity
Flexible
Recommended mixing tool: Eggbeater Style Mixer
Click to view less-than-pallet pricing.
Description
FASTPATCH ACR Asphalt Alligator Crack Repair provides long lasting, durable repairs that allow for rapid return to service, within an hour of installation.
KIT CONTENTS:

Pail A: Pre-mixed Polymer Part A.
Pail B: Polymer Part B, Topping Sands.
Nitrile Gloves.
Scraper.
Safety Data Sheet.
Full Instructions.
PACKAGING: 32 Kits : 64 pieces per pallet. Pallet consits of (32) 5-Gallon Pail A, and (32) 3-Gallon Pail B.
COLOR: Black
UNIT VOLUME: 0.50 CF per A+B Kit.
SHELF LIFE: 1 year when properly stored.

Recommended mixing tool: Eggbeater Style Mixer
Instructions
Before handling, you should become familiar with the Material Safety Data Sheet (MSDS) regarding the risks and safe use of this product. The MSDS is included within the product packaging. For a copy of the MSDS please Contact Us with your request.
Print or Download this Installation Guideline: Alligator_Crack_Repair_Kit_Instructions_May_2020.pdf

Technical Data
View or download the FastPatch ACR Technical Data Sheet: Alligator_Crack_Repair_Kit_TDS_May_2020.pdf

SHELF LIFE
1 year when properly stored.
STORAGE
Store and ship this product in a clean, dry, low-humidity, shaded or covered environment at 50-90° F (10-32° C).
Warranty
DISCLAIMER OF WARRANTY
TEST RESULTS ARE TO BE CONSIDERED AS REPRESENTATIVE OF CURRENT PRODUCTION AND SHOULD NOT BE TREATED AS SPECIFICATIONS. WHILE ALL THE INFORMATION PRESENTED IN THIS DOCUMENT IS BELIEVED TO BE RELIABLE AND TO REPRESENT THE BEST AVAILABLE DATA ON THESE PRODUCTS, NO GUARANTEE, WARRANTY, OR REPRESENTATION IS MADE, INTENDED, OR IMPLIED AS TO THE CORRECTNESS OR SUFFICIENCY OF ANY INFORMATION, OR AS TO THE SUITABILITY OF ANY CHEMICAL COMPOUNDS FOR ANY PARTICULAR USE, OR THAT ANY CHEMICAL COMPOUNDS OR USE THEREOF ARE NOT SUBJECT TO A CLAIM BY A THIRD PARTY FOR INFRINGEMENT OF ANY PATENT OR OTHER INTELLECTUAL PROPERTY RIGHT. EACH USER SHOULD CONDUCT A SUFFICIENT INVESTIGATION TO ESTABLISH THE SUITABILITY OF ANY PRODUCT FOR ITS INTENDED USE. PROPER APPLICATION IS THE RESPONSILBITY OF THE USER. AS WITH ANY PRODUCT THE USE OF THE THIS PRODUCT IN A GIVEN APPLICATION MUST BE TESTED (INCLUDING BUT NOT LIMITED TO FIELD TESTING) IN ADVANCE BY THE USER TO DETERMINE SUITIBILITY. TESTING IS THE REQUIREMENT OF BOTH ENGINEERS AND CONTRACTORS ALIKE. WVCO DOES NOT WARRANT THE APPLICATION UNDER ANY OR ALL CIRCUMSTANCES.
Shipping
Pallet Qty.: 64 Pails. Full Truckload quantities [16+ pallets] are shipped Free - Freight PREPAID.
This item ships by common carrier LTL Freight. You will not be charged for shipping during Checkout. You will be offered and you should select the "Request for Freight Quote" option during Checkout. We will contact you within 1 business day with your shipping options and costs. To request a FREIGHT QUOTE in advance of purchase please Contact Us with your request.
We make every effort to keep your shipping costs as low as possible. Your freight charges will be at our fully discounted carrier invoiced cost without surcharge by PRP Co. If you require any special freight services, such as Appointment Delivery, Lift-Gate Delivery, or other logistical requirement, be sure to let us know at the time of order placement.
Reccommended Accessories for: FASTPATCH Asphalt Alligator Crack Repair Kit - Pallet of (32)
[1026285-PLTB]

Eggbeater Style Mixer
Ask a question about: FASTPATCH Asphalt Alligator Crack Repair Kit - Pallet of (32)
[1026285-PLTB]
Customers who bought this product also purchased